On is FC Basel's new shoe partner
The red-and-blue of FC Basel, one of Switzerland's most successful soccer clubs, will soon be running, walking and working out on clouds. The club and On have concluded a new partnership agreement that will extend until 2025. On will provide the FC Basel first team, its women's and juniors teams and the FCB DreamTeam with training and travel shoes.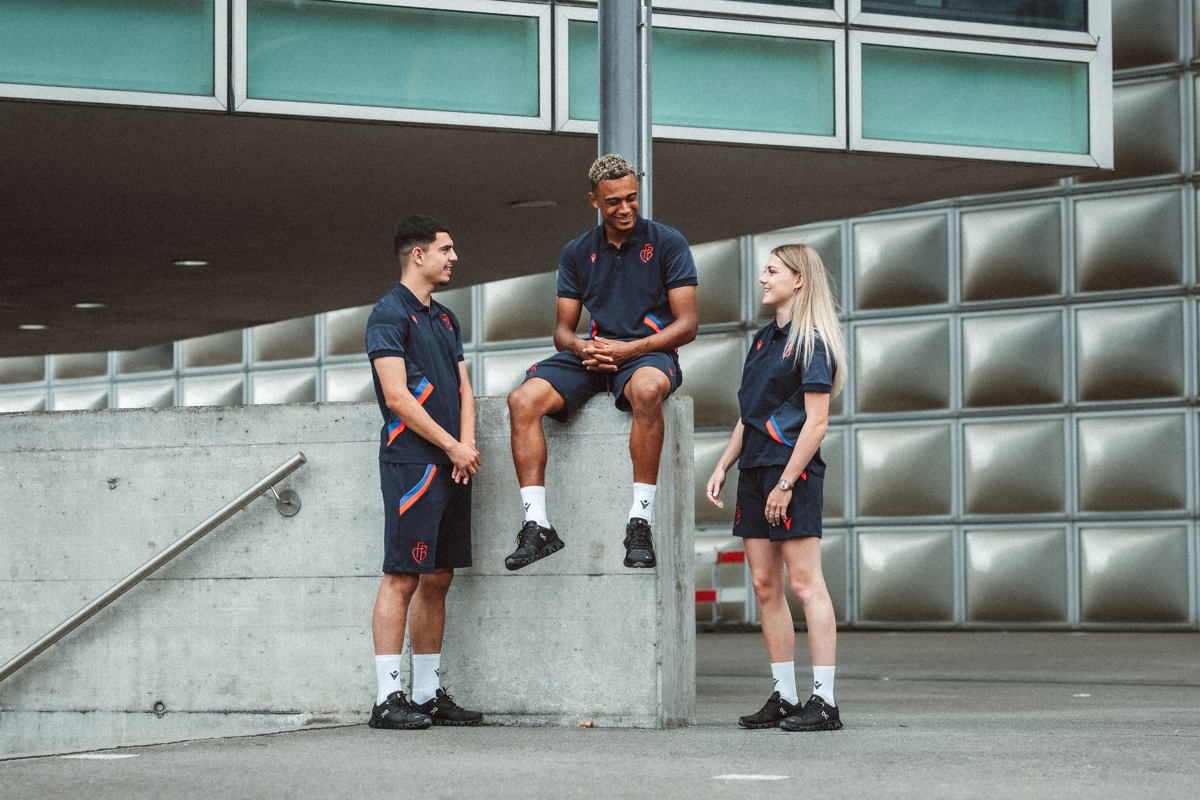 Zurich, Switzerland, July 8, 2022 – Firmly rooted in Switzerland, famed nationwide and beyond, and focused constantly on the goal of delivering a top sporting performance: it's all as true of On as it is of FC Basel 1893, the Swiss city of Basel's renowned soccer club. The two now have something further in common: they've just entered a partnership that will extend to 2025.
Under the new accord, On will supply FC Basel's various teams with the ultra-light and multifunctional Cloud X shoe, which has been specifically designed for both running sessions and mixed workouts with its blend of stability, agility and versatility. They'll also receive the ROGER Advantage tennis-inspired sneaker, which was co-created with Roger Federer.
"Just to be clear, no: we have no plans at present to get into the soccer boot business," laughs On co-founder Olivier Bernhard. "But it is a great honor for us to equip the players and the further members of FC Basel with an optimum shoe for their training sessions away from the soccer field. And we're delighted to see a club with such a proud and strong tradition put its faith in our innovative CloudTec technology to help maximize training results."
Marco Streller, FC Basel's Partner Manager and Ambassador, emphasizes the sporting benefits that the new team-up should provide. "On is a Swiss brand that strives to give its wearers a consistently high sporting performance," he explains. "That our entire club – be it in the gym, out jogging or on our travels – can now benefit from this revolutionary technology is a massive plus for us."
---
About the FC Basel 1893
The FB Basel 1893 was founded on November 15, 1893 by members of a rowing club and is one of Switzerland's oldest clubs. With 30 championships and 13 cup victories, the FCB is the second-most successful club in Swiss football history. It is also know internationally for having eliminating notable opponents like Celtic Glasgow, FC Liverpool and Manchester United in the UEFA Champions League group stage and for reaching the semifinals of the European Cup.
About On
On was born in the Swiss Alps with one goal: to revolutionize the sensation of running by empowering all to run on clouds. Eleven years after market launch, On delivers industry-disrupting innovation in premium footwear, apparel, and accessories for high-performance running, outdoor, and all-day activities. Fueled by customer recommendation, On's award-winning CloudTec® innovation, purposeful design, and groundbreaking strides in sportswear's circular economy have attracted a fast-growing global fan base–inspiring humans to explore, discover and dream on. On is present in more than 60 countries globally and engages with a digital community on www.on-running.com.